Our business developers are experienced in developing healthy business propositions and taking innovations to market. With a proper value proposition and approach-to-market, the success rate is maximized. As an example, the HalloZorg platform (described below) resulted from EU research projects, and is now commercially used by care organizations in The Netherlands.
Buddy for the patient, assistant for the care professional.
Liz is the new digital coach for your home. She helps healthcare professionals to give advice, set reminders, and guide patients and clients in behavioral change. This makes it possible to optimize the recovery process, so that clients can continue to live independently at home for longer.
In addition, Liz helps care professionals and informal carers to see how things are going from a distance, and to make adjustments where necessary.
Liz can also be easily personalized and is available every day for patients in need of care, right at home.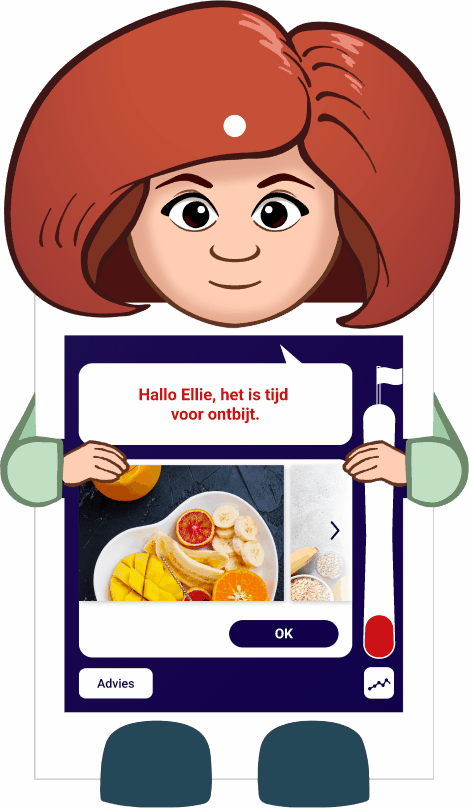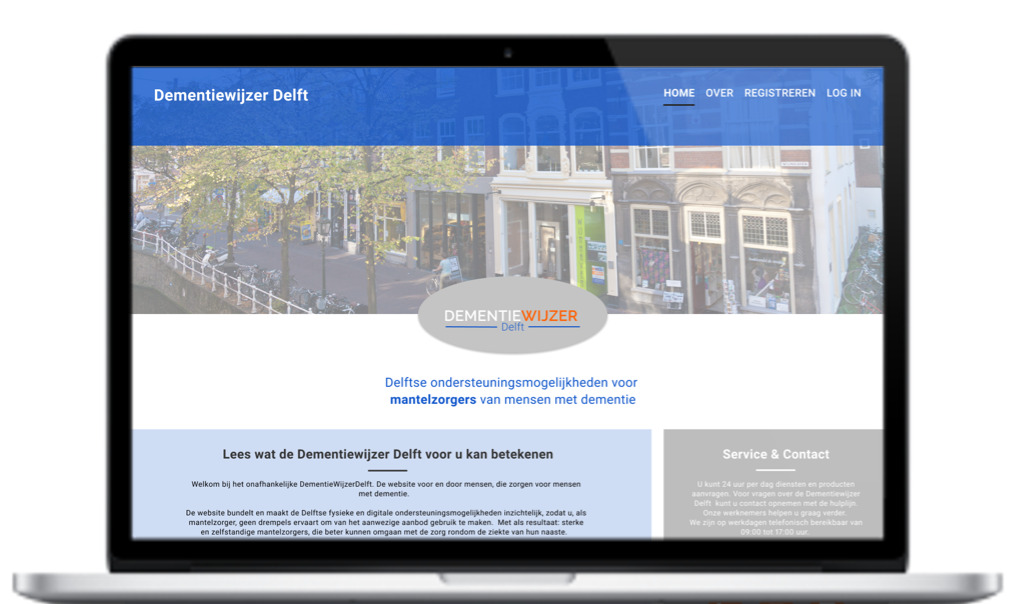 For caregivers of people with dementia
Dementiewijzer aims to bundle and provide insight into the local/regional support options for informal carers of people with dementia, so that informal carers do not experience any barriers to making use of the available offer.
Dementiawijzer gives us strong and independent informal carers who can better deal with the care related to their loved one's illness and who can therefore continue to live at home for longer.
By means of an interactive website called "DementieWijzer", with the integrated support offer for informal carers of people with dementia and where people experience no barriers to also make use of the support offer.
Personalised coaching towards healthy sleeping
Digital sleep coach Simon aims to help people with sleeping problems to sleep better. The development of Simon the Sleep Coach is based on three principles: exchanging sleep patterns, day planning and micro interventions during the day. Simon has been developed to be used as part of a sleep treatment. Simon works with a sleep expert. Simon collects information and guides the patient on a daily basis. Simon helps to map out which coping strategies work best for the person. A sleep therapist guides the process.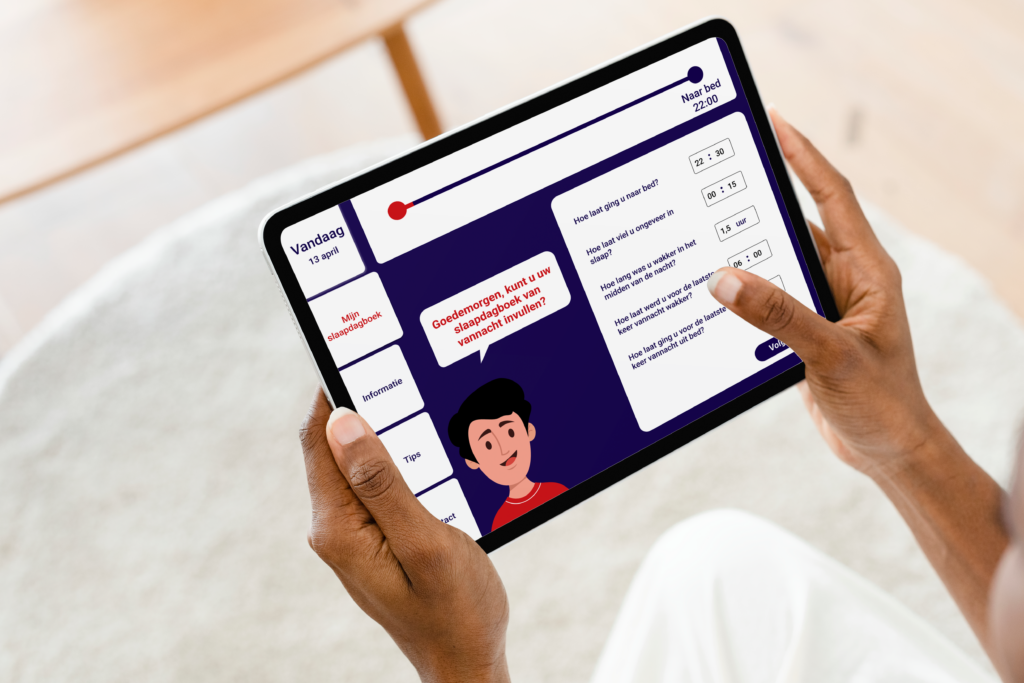 Engaging caretakers and their caregivers
Caregiving is teamwork. Existing digital tools emphasize communication, coordination and alarming. The digital platform HalloZorg approaches caregiving as a social activity, and brings together online collaboration, sensor awareness, and multichannel communication. HalloZorg truly engages caretakers and their caregivers.
Many care organizations use digital tools to share information, coordinate activities, and respond to incidents. The number of active users is dramatically low. Organizations struggle: How to engage patients and their informal caregivers in the day-to-day care collaboration process, and how to make available the multitude of solutions to a user group that is not eager to adopt digital solutions?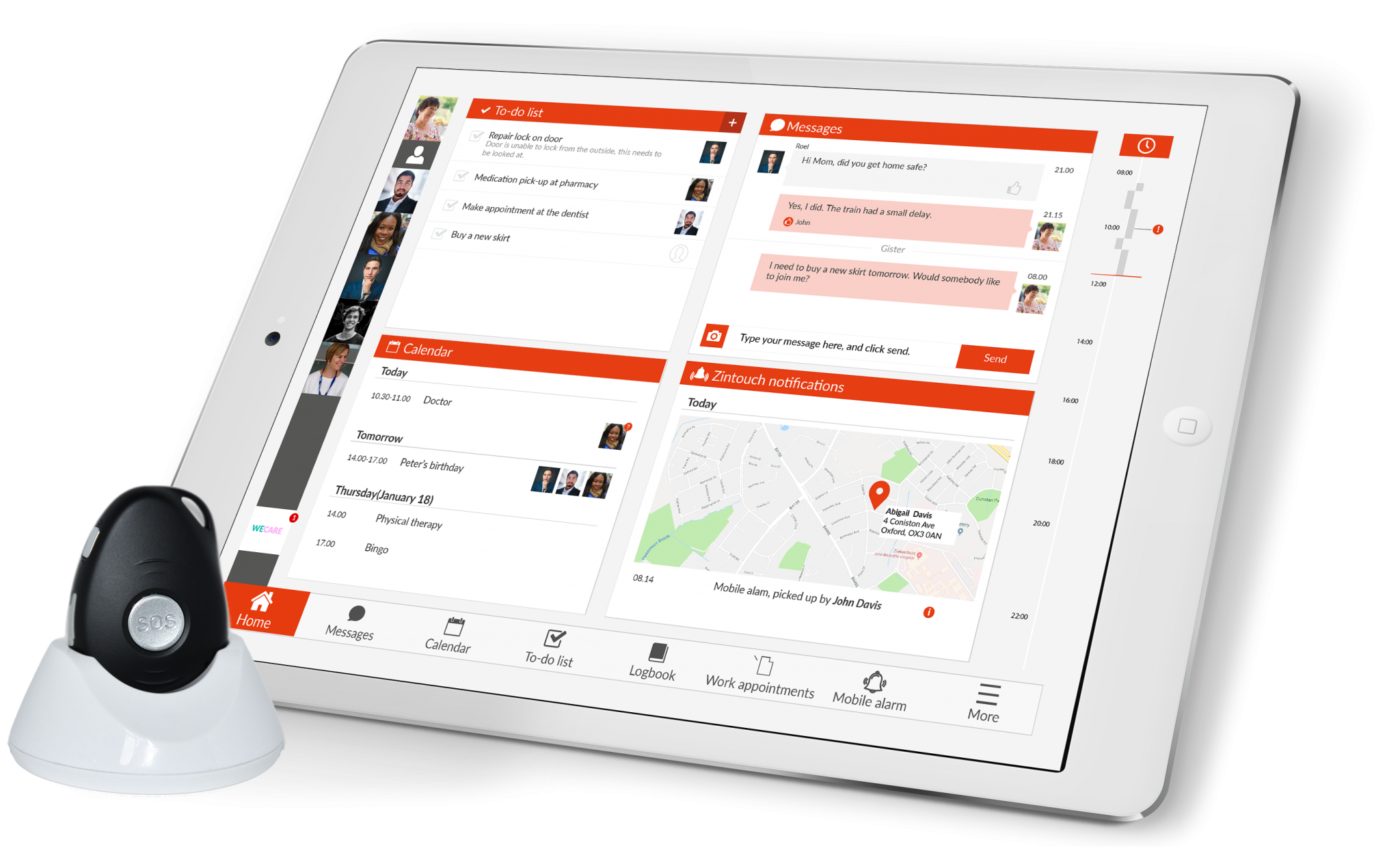 HalloZorg combines the best of Google Calendar, WhatsApp and Facebook in a secure environment. With ConnectedCare, patients and their caregivers communicate and coordinate together. With optional modules (1) sensor awareness, (2) electronic lock, (3) medication awareness and (4) mobile alarms, ConnectedCare provides a one-stop-shop that addresses a wide range of needs.[/vc_column_text][/vc_column][/vc_row]
Since 2010, our team has worked on HalloZorg with all our heart. HalloZorg turned out to be a valuable solution for many users. It has been wonderful to see how we, with HalloZorg, could help to better organize daily care. Unfortunately, we have had to conclude that HalloZorg is not viable in its current form. HalloZorg continues as part of our new digital care assistant: Liz. Liz supports patients with advice and reminders, and helps the healthcare professional and informal caregiver to deliver the right care at the right time.